COVID-19 has caused changes and adjustments to all aspects of our lives, and the KinderCamp™ program, one of United Way of Northern Arizona's signature initiatives to Step Up for Our Youth, is no exception.
Over the past 15 years, this month-long summer session has prepared more than 4,000 incoming kindergarten students academically, socially and emotionally so they are ready to embark on the lifelong adventure of learning. Children are referred to the program if it is felt it would prepare them for the classroom setting and the classes are provided at no cost to the families.
This year, of course, a classroom experience is not feasible, but UWNA and its partners are making it possible for parents and caregivers to bring the program into their homes.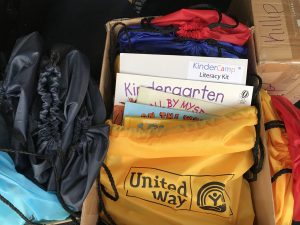 All incoming kindergartners are now eligible for a KinderCamp literacy kit. The kits, already a staple of the program to supplement what children learn at KinderCamp, have been expanded with instructions and extra materials so children can experience KinderCamp classes in their homes.
Among the items in the kits are an activity calendar in both English and Spanish; lessons on numbers and letters; coloring books; a recipe for making a modeling clay like Play-Doh; cut out pictures to make puppets and much more.
"We took advantage of this time to revamp the kits, and we've included some fun items they can use outside," said Sara Owen, a Flagstaff Unified School District teacher who is coordinating the program. "We added sidewalk chalk and Lego blocks with base plates where children can spell out their names."
Typically KinderCamp staff put together about 280 kits, but with kits being offered to all incoming kindergartners, the number of kits being assembled has soared to 650. About 25 will be given to the school district in Williams, but the majority will be distributed at Cromer, DeMiguel, Killip, Kinsey, Marshall and Thomas elementary schools in Flagstaff by KinderCamp staff.
Distribution in Flagstaff will be from 8:30 a.m. – 12:30 p.m. from Monday, July 13 through Friday, July 17. Kits in Williams will be handed out when students register for kindergarten in person.
"We hope to greet them with a friendly smile – behind our masks of course – and provide excitement about starting kindergarten," Owen said.
If students have not been registered for Kindergarten yet in Flagstaff, their families can pick up a pamphlet at the same time which will show them how to register their child online.