Long-time United Way supporters Andy Bertelsen and Susan Hilgart will be leading this year's United Way of Northern Arizona Annual Campaign, which officially kicks off with a virtual event later this month.
Both Andy and Susan are long-time civil servants with impressive resumes in the public sector.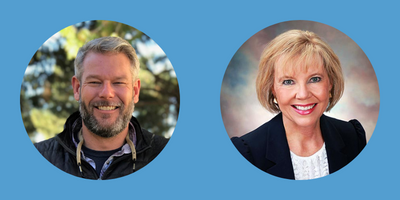 Andy, who recently became the Interim Water Services Director for the City of Flagstaff after five years as Public Works Director, will be the campaign's spokesman for Coconino County. Andy is a Summit Society member has been involved with UWNA for 15 years, including several years as Treasurer on the Board of Directors before becoming Vice Chair and eventually Chairman of the Board.
Meanwhile, Susan, the Deputy Director of Human Services and Public Health Improvement for Navajo County, will represent Apache and Navajo counties. Although she only came to northern Arizona from Minnesota a few years ago, she has been involved with United Way organizations for more than three decades.
As local government officials, both Andy and Susan are very familiar with the challenges many of our friends and neighbors are facing and why the work of UWNA and its agency partners is so vital.
Andy said that he was grateful for the service of UWNA and knows first hand the impact our organization has had during emergencies like the Shultz and Museum fires as well as efforts to mitigate subsequent flooding due to those events.
Susan noted that the counties she represent have a poverty rate that is more than double the statewide rate, with almost 1 in every 3 children living in poverty. Donations to UWNA will ensure that their families get the help they need to break that cycle of poverty.
We are very grateful to Andy and Susan for helping to lead our Annual Campaign.
If you would like to sign up your company or organization for a Workplace Campaign this year, please email Campaign Resource Coordinator Christine Pierce at cpierce@nazunitedway.org.
Our annual campaign kickoff event will be virtual this year and launch at 11:30 am on Thursday, September 30th. Stay tuned for more information on how to join us for the kickoff and Thank You for Stepping Up for Our Community.